少年白马醉春风
Shao Nian Bai Ma Zui Chun Feng
Author: 周木楠 / Zhou Mu Nan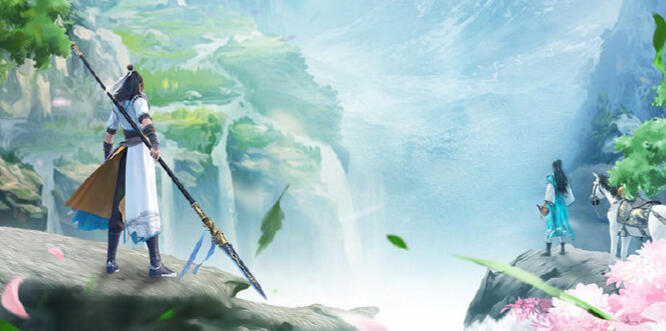 Novel
少年白马醉春风 / Shao Nian Bai Ma Zui Chun Feng
(Youth on White Horse, Drunk on Spring Breeze)Author: 周木楠 / Zhou Mu Nan
Length: 734K words (355 chapters)
Status: Completed in May 2019
Published by 不可能的世界: click here to read / purchase
No translation available yetThe story is set about twenty years before Shao Nian Ge Xing and the main characters in the novel are Baili Dongjun and Sikong Changfeng as well as their shifu, Li Changsheng. Supporting characters with major roles are Lei Mengsha, Xiao Ruofeng and Ye Dingzhi. The story spans the time from when Baili Dongjun first learned martial arts to the war with the Demonic Cult. Many familiar characters from the original novel make appearances in the prequel.Publisher's Synopsis
The street was bustling, noisy and clamorous.
A butcher who used a machete chopped down with his knife and bones split apart like flowers. An old lady selling embroidered shoes with needles and candles, and none were left alive within a hundred feet. An oil seller with 18 swords hidden in his sleeves was always staring at the steamed bun stall on the other side. A little beauty who could change her face nine times with a flick of her finger. At the end of the street, there was also a wine shop named Donggui. Inside the shop was a young man who could brew wine. That young man… really only knew how to brew wine.He had twelve jars of wine, but no one came to drink. The shop only ever had one customer sitting inside - a tipsy man who wore white and carried a spear, whiling his time away. He said he wanted to buy a horse, hang a jar of wine on it, whip it into a wild ride, and get drunk on the spring breeze.
Web Novel Chapter List
Book 1 - Chapters 1-69
Eight Noble Sons of Beili
北离八公子Book 2 - Chapters 70-268
Renowned Under Heaven
名扬天下Book 3 - Chapters 269-355
Demonic Cult Eastern Incursion
魔教东征
The novel is also available in print (Simplified Chinese only).Publisher: 中国广播影视出版社 (China Broadcast Film & Television Publishing House)
Publish date: 2021-09-01
ISBN: 9787504385659
Distributed by JD: online listing (China only)The collection is split into three volumes priced at ¥144 for all three. The author also wrote 4 extra chapters exclusive to the printed version.Print Novel Chapter List
少年白马醉春风 1 少年有酒 Youth Has Wine
19 chapters roughly covers ch 1-127
Book 1 extra: 枪起风陵少年白马醉春风 2 名扬天下 Renowned Under Heaven
21 chapters roughly covers ch 128-268
Book 2 extra: 英雄美人少年白马醉春风 3 东征之战 Battle of the Eastern Incursion
15 chapters roughly covers ch 269-354
Book 3 has two extras: 桃花依旧 and 无心无尘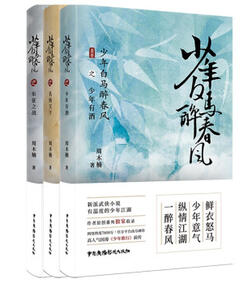 Donghua
The Young Brewmaster's Adventure
Mango TV and Youku announced the donghua adaptation in Apr 2021. The animation is produced by CG Year (中影年年), same as Shao Nian Ge Xing.Season 1 - 20 episodes
Air-date of episode 1: 27 Jul 2022
Part 2 (episode 11 onwards) will return in Nov 2022Watch with English subtitles: Youku YouTube
(Members get advanced access to next episode)Opening theme: 少年白马 by Smile_小千 - MV
Ending theme: 春风欲渡 by 汪晨蕊 - MV
Listen on YouTube Music, Apple Music, SpotifyCast:
Baili Dongjun - Su Shangqing
Sikong Changfeng - Wai Wai
Yue Yao - Xu Jiaqi
Yao Yue - Jin Li
Xiao Bai - Tang Xiaoxi
Su Muyu - Yun Weiyi
Su Changhe - Liu Sicen
Lei Mengsha - Zhang Boheng
Gu Jianmen - Qian Wenqing
Luo Xuan - Teng Xin
Xiao Ruofeng - Zhao Yi
Liu Yue - Wei Yifan
Mo Xiaohei - Miao Zhuang
Baifa Xian - Yao Lei
Ziyi Hou - Meiying Zhisheng
Xiao Li - Qi Sijia
Yan Liuli - Li Shimeng
Gu Luoli - Miao Zhuang
Yan Bietian - Zhao Mingzhou
Yan Qiansui - Yang Mo
Gu Chen - Yang Mo
Granny Needle - Lu Xiran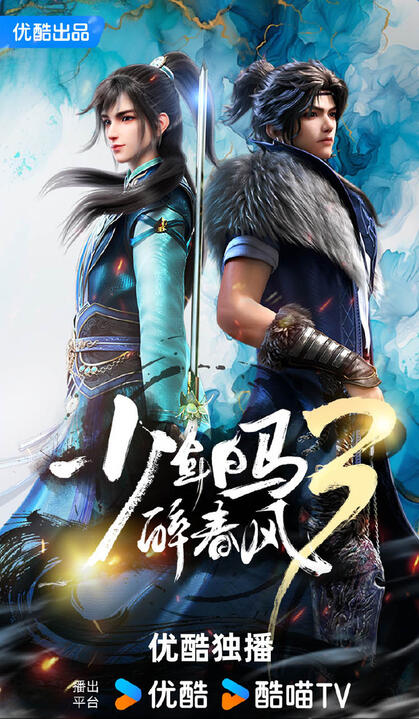 Links:
Youku official site
Official Weibo
Youku YouTube PV PlaylistTrailers on YouTube:
Announcement PV
15 May PV - Trailer
10 Jul PV - Yan Family
13 Jul PV - Coming Soon
16 Jul PV - Outerheaven
20 Jul PV - Eight Noble Sons of Beili
26 Jul PV - Main Characters (embedded below)
Synopsis (from Youku TV):
The story takes place twenty years before Shao Nian Ge Xing. Baili Dongjun, who would become number one under Heaven, was still the doted sole grandson of the Marquis of the Western Garrison. Even though his father was well-trained in martial arts and his mother was the daughter of the head of Wen Clan, he had no interest in martial arts and only loved brewing wine. In ten years, he would brew an ultimate wine. Finally, he stole a title deed from home, ran hundreds of miles away to Chaisang City and opened a tavern. However, this long street was filled with lethal characters and he was the only one who was seriously brewing his wine. Due to various circumstances, he became embroiled in a feud between two great families and befriended Sikong Changfeng, a wanderer with no family, as well as Lei Mengsha, who was known as Sir Zhuomo from Tianqi City. Grateful for their help in saving his life, he decided to join them...
Live Action
Mango TV also announced a live action adaptation coming in 2022 Q4. Filming was expected to start in Aug 2021 in Yunnan and Hengdian but has been delayed.Director: Chen Zhoufei 陈宙飞
Cast: Hou Minghao 侯明昊, Wang Anyu 王安宇